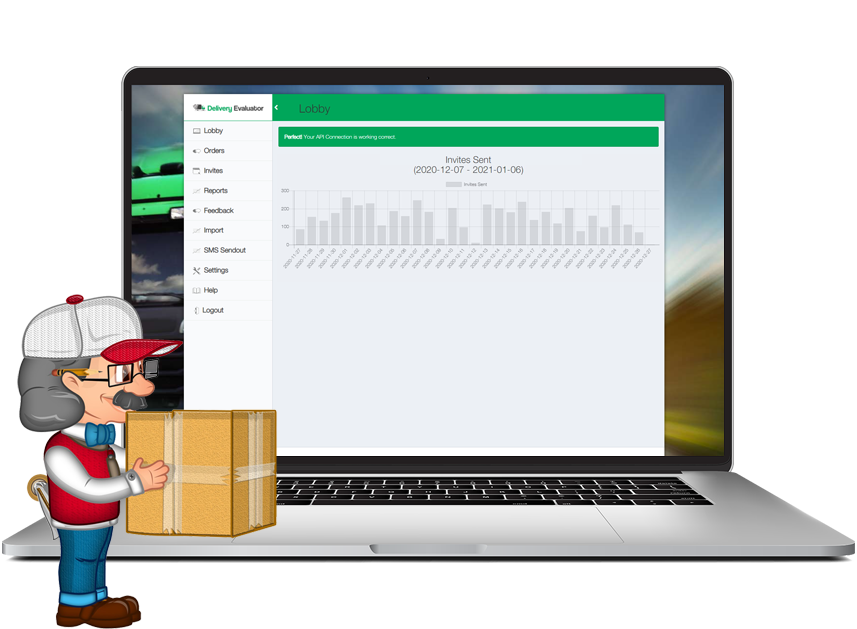 Delivery Feedback Surveys, made easy and automatic!
Examinare Delivery Evaluator helps to evaluate performance in ecommerce, delivery and one-time purchases.
With Delivery Evaluator, business owners get the tools for controlling satisfaction of their customers with the received orders, their delivery and overall work of the company.
Core Reasons to use Delivery Evaluator.
Automation
Delivery Evaluator works in fully automatic mode. There's no need to track customer purchases, check who has already received the survey or not, manually send invites and reminders. Once being set up the system works on its own according to your settings and you can concentrate on checking the received feedback.
Integration
There is a lot of ecommerce platforms and systems we have already made an integration for: Magento, Shopify, PrestaShop, WooCommerce etc. If your company is using a non-standard or individually developed system, we will surely find a way of integrating Delivery Evaluator into your everyday workflow.
Included CSAT (Customer Satisfaction Score)
Delivery Evaluator Dashboard contains CSAT, a special index presented in a mark from 1 to 5, that is automatically calculated for each field of your work and in simple way shows how the customers evaluate your services. It gives a quick overview and shows the influence of different team members and departments on the overall results.
Survey sending by the most common communication channels.

Delivery Evaluator can be set to contact your customers via email, SMS or both. It's fully up to you what to choose. At the same time, if you use both channels, duplicate answers from the same people are impossible, because right after the customer has answered the survey, the system marks the parallel link as inactive.
Security

Delivery Evaluator is hosted in Examinare framework, which is working according to the highest security standards and not compromising to quality for affordability, like a major part of standard web hostings.
Our hosting is held in Europe, but with possibility to store data in USA, Russia or Singapore/Asia by your request.

GDPR Compatible

We sign a "Personal Data Assistant Agreement" with all of our customers. This is the reason you can be absolutely sure, that all the valuable data in your account is strictly handled according to the guidelines of GDPR.
More than 35 languages available
Delivery Evaluator by default works with 35 languages already and the new ones can be added if you need them. Automatically contact customers in their native language, collect more responses and show your exemplary client orientation!
Professional survey tool for other in-depth research as a bonus
Together with The Delivery Evaluator account you get access to Examinare Survey Tool, a professional software for researches of any complexity. It gives you access to conducting Employee Satisfaction Surveys, marketing surveys, website evaluation and much more. Dedicated Examinare account is included into your contract by default.
Live analysis and custom reports
All the answers and data coming into Delivery Evaluator are being analyzed in real time and displayed on your dashboard. The system provides rich sorting and filtering capabilities, individual response review and custom report generation. The automatic daily reports can be delivered to you by e-mail.
Control your business work with your clients ratings.
Take a fresh look at the user friendliness of your website, ease of ordering and availability of payment options, time of dispatch preparation and the quality of the delivery. People are different and so are their desires and requirements. You will never know what was wrong, if you do not ask about it.
Payment Providers Integrations.
Find out more about your payment options. Are you missing any option that is in a high demand? Are there any problems inside the system that you do not really know about?
We have fully automatic connections for:
-Stripe
-iZettle
E-commerce Integrations.
There ARE a lot of e-commerce platforms and systems available. We also have automatic connections for the following e-commerce platforms that are fully automatic and able to start working as soon as your account is set up.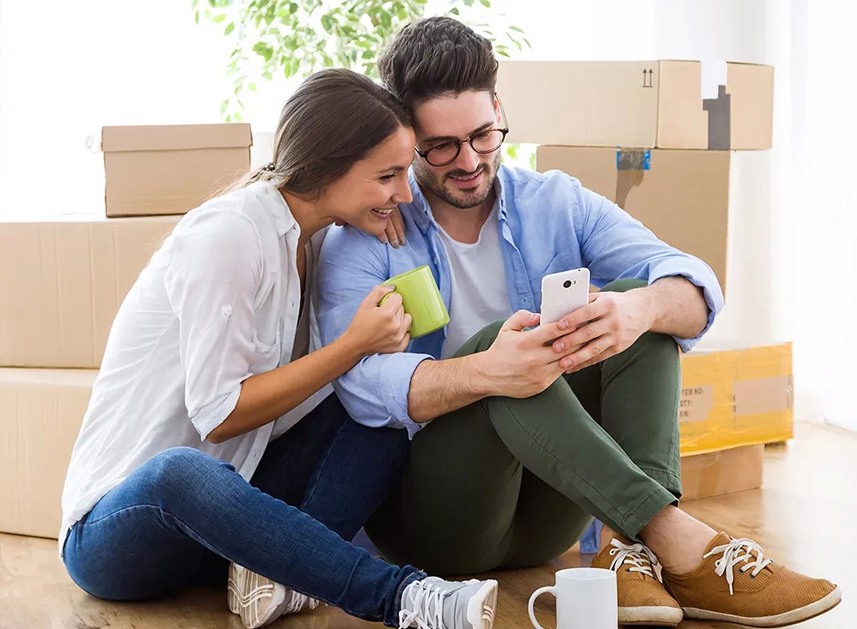 Use insights from customers in your favor.
There can be numerous scientific researches done, lots of info-entrepreneurs may share their success stories with you or you can endlessly spy at the competitors, but still the needs of your customers and factors motivating them to buy certain products will stay unobvious and non-standard. The power of attraction is in satisfying the needs of YOUR own customers. Successful companies would never make a breakthrough, if they were imitating their competitors or following the general marketing recommendations.

In simple, automatic and informative way Delivery Evaluator helps to collect customer opinions, uncover their feelings, desires, thoughts on different products, user-friendliness of your website, missing features. Any complaints are a lot easier to express remotely than to share them face to face or even by phone. You will lose the valuable insights if you do not ask about them.

It will also be important to mention that the whole process of gathering customer insights is being held in fully automatic mode. After your customer puts in her/his order and arrives at your thank you page, our system registers the order and customer information to enable email invitations of the CSI questionnaire. After you ship the product or service, Delivery Evaluator automatically gets indication about it. Then it sends out the questionnaire according to your settings. After receiving the feedback, you can follow the results in real-time.



Individually prepared surveys by certified professionals.
Many people think that professional tool is the most important part of organizing customer research, anyone can create the needed questions or download the relevant survey template. While first part of the statement is almost right, following the second half of it often brings low quality results, that can't be systematized, low response rate and total frustration because of mismatching the expectations.

We don't want this situation to happen with our customers, that's why individual survey construction and design by our professionals is an integral part of Delivery Evaluator. There is no need for you to learn the survey tool, think over the right questions or compose motivating invite messages for your customers. During the standardized online interview our expert will learn the needs and goals of your company to subsequently develop an optimal way to track the satisfaction of your customers.

Any interview with you held by our survey professionals and all the received information is handled according to the strict Non-Disclosure Guidelines and corresponding NDA is signed between our parties.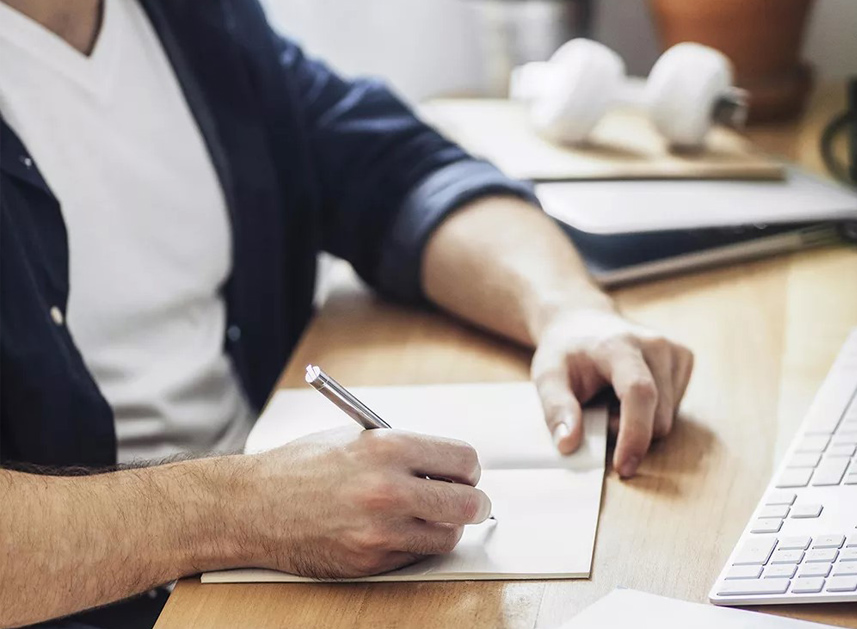 Security & Integrity.
We always look after your feedback received with our help. All of our systems use advanced SSL encryption and are hosted in secure datacenters. However, if you need additional security and want to minimize access to the admin area, we can also add IP blocking to your account.

SSL encryption;
IP blocking on your administration account;
Secure datacenters with around the clock surveillance;
Backup every hour in case you delete something you want to restore.
Servers are dedicated to Examinare customers.
We host Delivery Evaluator inside Examinare hosting framework, which is being operated according to the highest security standards, unlike the major part of standard web hostings.
Hosting is organized mainly in Europe, but there is also a possibility to store data in USA, Russia or Singapore/Asia.
* Delivery Evaluator is owned and operated by Examinare AB, Swedish Market Research Company.
GDPR & Privacy Shield.
When you become our customer, we sign a "Personal Data Assistant Agreement" with you and all the data stored in your account is handled according to the guidelines of GDPR. Available to read here.
Read More
Price Quotation
Find out how Examinare can help you! One of our Examinare experts will contact you shortly to discuss your needs and how you can benefit from Examinare Solutions.
Fill in the form and we will contact you shortly.
Want to know how to collect feedback like a pro?
Subscribe to our newletter and stay always in touch with the latest survey creation, distribution and analysis techniques.
Delivery Evaluator - News