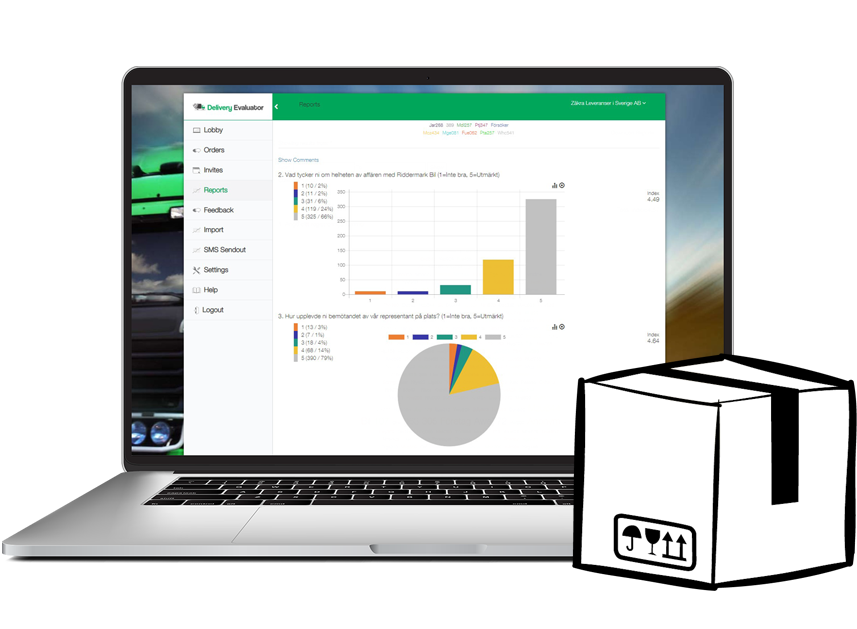 Delivery Evaluator – a small and easy system for automatic quality measurements of your deliveries.
Delivery Evaluator allows you to receive customer satisfaction information and feedback comments automatically or with a few button clicks. When you are always informed about your customers' likes and dislikes, it is easier for your organization to grow and work professionally.

Pricing
How does it work?
Delivery Evaluator connects to your website or ecommerce and catches the fulfilled orders. Then it sends follow up questionnaires to your customers by SMS or E-mail.

Alternatively, you can simply upload your client base into Delivery Evaluator and manually send survey invites at any time.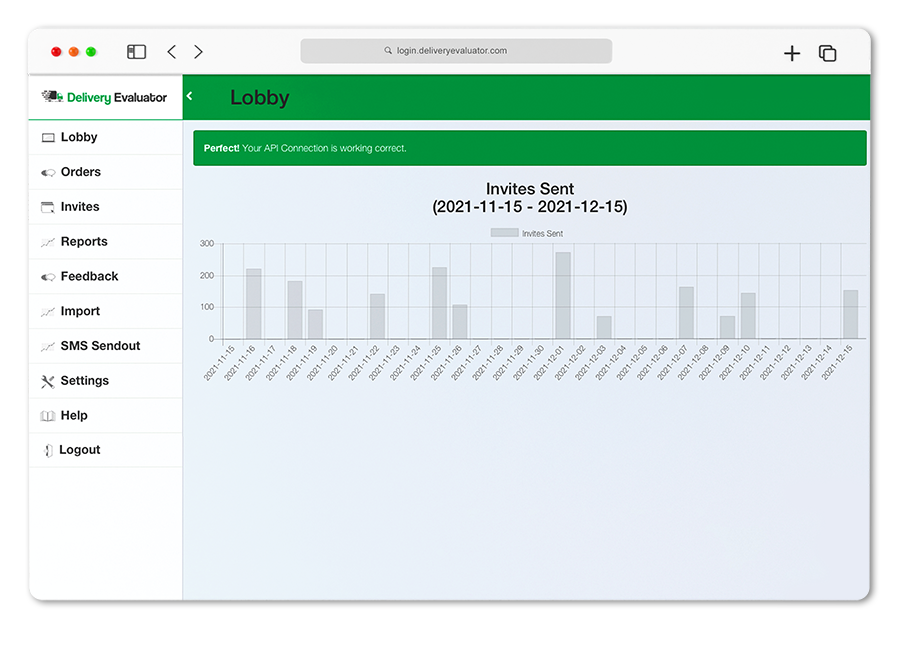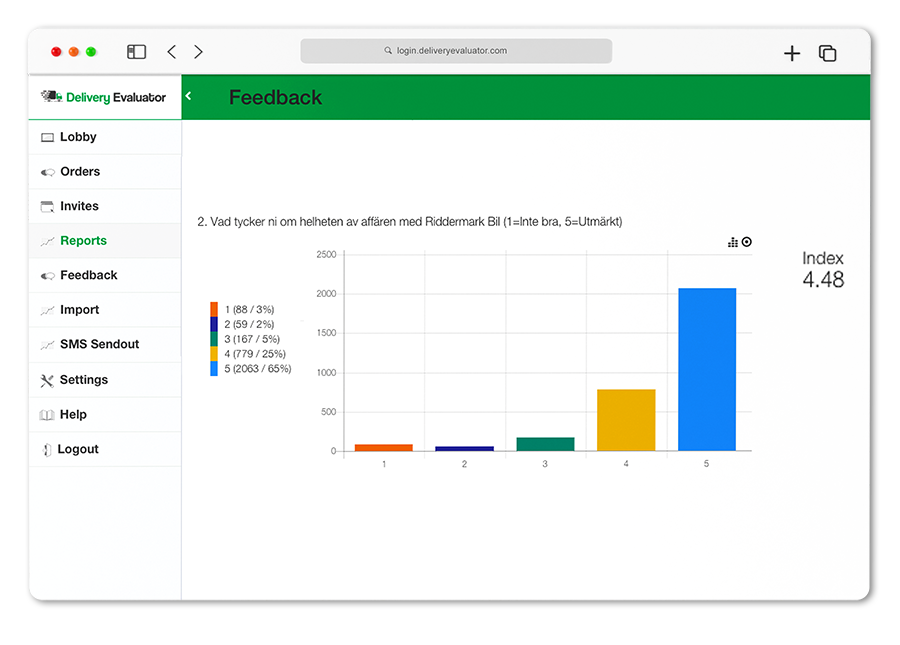 What results do you get?
All the received answers are automatically analyzed in real time. Depending on the type of question you choose, the charts are formed and the performance mark is calculated.

Comments are displayed in a separate section. There you are presented with a user-friendly feedback overview and may also use the chosen results as testimonials for your website.


Communication with clients is organised via SMS or email.
You may choose a preferable way of contacting your clients, depending on the type and organisation of your business. SMS has an added small cost, while email communication is totally free of charge.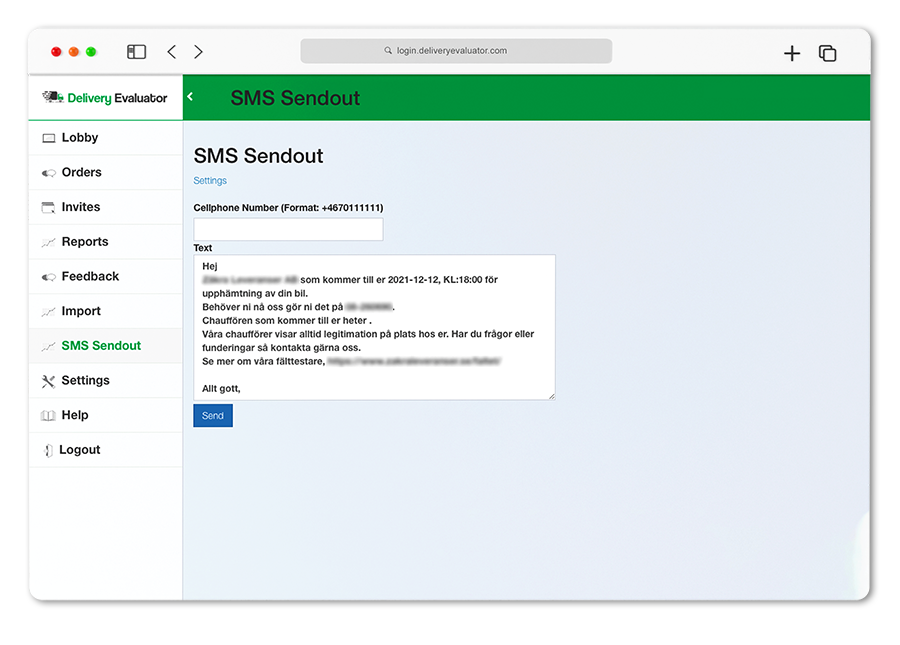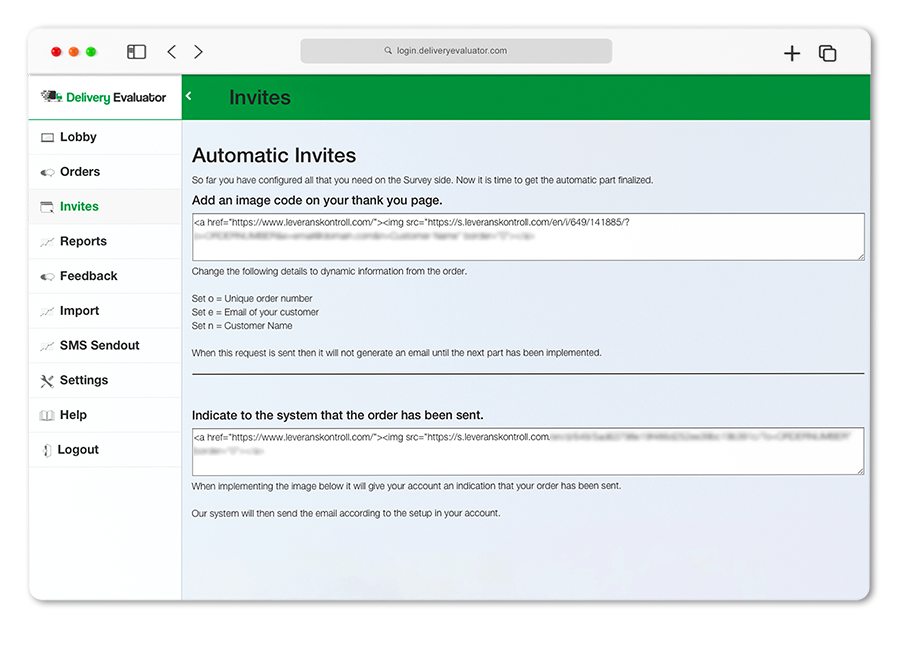 How is the setup process organised?
Depending on your needs and your type of business, Delivery Evaluator can be connected to your website or be used as a separate solution for following up on your customer satisfaction.

In first case, the system automatically catches the fulfilled orders and sends surveys to the clients in a set time. In second case, you upload your customer data into the system, check the desired recipients and they will get the survey invites in a set time or immediately.


Core Reasons to use Delivery Evaluator.
Automation
Delivery Evaluator works in fully automatic mode. There's no need to track customer purchases, check who has already received the survey or not, manually send invites and reminders. Once being set up the system works on its own according to your settings and you can concentrate on checking the received feedback.
Integration
There is a lot of ecommerce platforms and systems we have already made an integration for: Magento, Shopify, PrestaShop, WooCommerce etc. If your company is using a non-standard or individually developed system, we will surely find a way of integrating Delivery Evaluator into your everyday workflow.
Included CSAT (Customer Satisfaction Score)
Delivery Evaluator Dashboard contains CSAT, a special index presented in a mark from 1 to 5, that is automatically calculated for each field of your work and in simple way shows how the customers evaluate your services. It gives a quick overview and shows the influence of different team members and departments on the overall results.
Survey sending by the most common communication channels.

Delivery Evaluator can be set to contact your customers via email, SMS or both. It's fully up to you what to choose. At the same time, if you use both channels, duplicate answers from the same people are impossible, because right after the customer has answered the survey, the system marks the parallel link as inactive.
Security

Delivery Evaluator is hosted in Examinare framework, which is working according to the highest security standards and not compromising to quality for affordability, like a major part of standard web hostings.
Our hosting is held in Europe, but with possibility to store data in USA, Russia or Singapore/Asia by your request.

GDPR Compatible

We sign a "Personal Data Assistant Agreement" with all of our customers. This is the reason you can be absolutely sure, that all the valuable data in your account is strictly handled according to the guidelines of GDPR.
More than 35 languages available
Delivery Evaluator by default works with 35 languages already and the new ones can be added if you need them. Automatically contact customers in their native language, collect more responses and show your exemplary client orientation!
Professional survey tool for other in-depth research as a bonus
Together with The Delivery Evaluator account you get access to Examinare Survey Tool, a professional software for researches of any complexity. It gives you access to conducting Employee Satisfaction Surveys, marketing surveys, website evaluation and much more. Dedicated Examinare account is included into your contract by default.
Live analysis and custom reports
All the answers and data coming into Delivery Evaluator are being analyzed in real time and displayed on your dashboard. The system provides rich sorting and filtering capabilities, individual response review and custom report generation. The automatic daily reports can be delivered to you by e-mail.
Control your business work with your clients ratings.
Take a fresh look at the user friendliness of your website, ease of ordering and availability of payment options, time of dispatch preparation and the quality of the delivery. People are different and so are their desires and requirements. You will never know what was wrong, if you do not ask about it.
Payment Providers Integrations.
Find out more about your payment options. Are you missing any option that is in a high demand? Are there any problems inside the system that you do not really know about?
We have fully automatic connections for:
-Stripe
-iZettle
E-commerce Integrations.
There ARE a lot of e-commerce platforms and systems available. We also have automatic connections for the following e-commerce platforms that are fully automatic and able to start working as soon as your account is set up.
Delivery Evaluator
500 EURO
First month included, after 100 USD / per month.
Automatic Survey Invites
Advanced Reporting
Fully featured, no upgrades!
Questionnaire Created by Examinare Team
Dedicated Support Contact
Start your Delivery Evaluator Experience
You can now start your experience with Delivery Evaluator directly online. After the first payment that includes setup and first month of usage the following will happen:

1. We contact you for the first meeting out of 2.
2. We create your questionnaire.
3. You approve the questionnaire or we make adjustments.
4. Setup
5. Startup meeting, your business is ready to go!



Delivery Evaluator - News