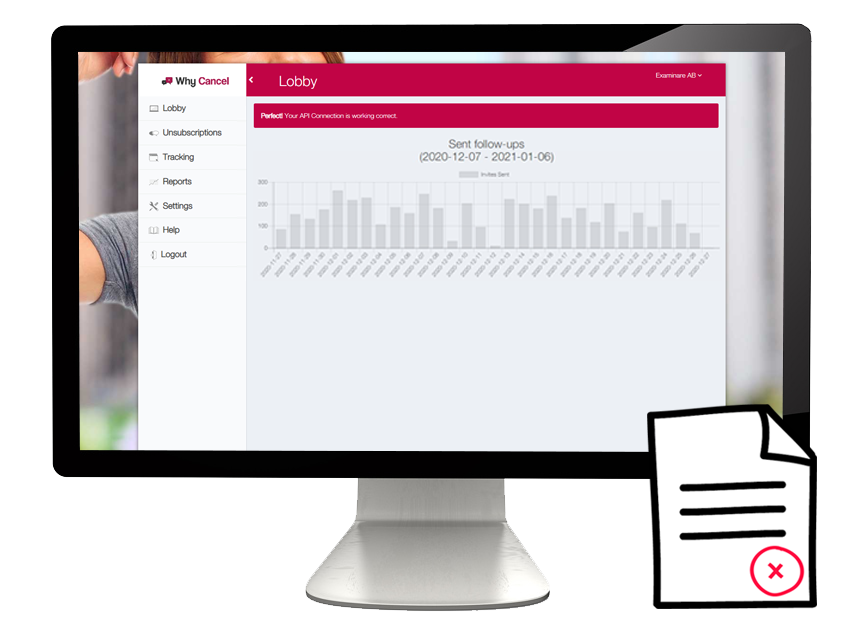 Anti-churn with real customer questionnaires that convert.
Examinare Why Cancel helps companies to find out true reasons for contract cancellations and how to win back their customers.
Why Cancel assists companies to understand how to be better by studying the cancellations in their business. We help Online magazines, Gyms, SaaS, Electric Companies, Internet Service Providers and companies who provides online subscriptions and services.
In other words, you get the tools to:
Track customer losses and reduce negative trends.
Keep an eye on the needs of people in your business area, predict the upcoming trends, do not lose any vital bit of information. You can always just let a person go or you can turn his leave in your favor and even try to return him back. Uncovering the reasons that make people go and working on them is a crucial step in helping them to return.
Get your Questionnaire created by real experts.
One thing is to ask a question and another thing is to ask a right question in the effective way and at the right time. We want our customers to always reach the best results and for this reason Why Cancel includes a survey preparation service by our specialists. You will get a questionnaire developed individually for you with the survey flow set up according to your business goals.
Get help from our advisors.
Get help from our advisors to motivate your customers to not only stay but to upgrade their services. Get a dedicated consultant that will help you ongoing to understand the data from your Why Cancel service and help you with additional services such as Employee Satisfaction Surveys and Exit Surveys.
Core Reasons to use Why Cancel:
Wide multilingual capabilities.
It is a lot easier to become closer to people, when you contact them in their native language. By default, Why Cancel's functionality is available in 35 languages already and the new ones can be added by your request. You can also order survey translation by our specialists into any languages you need as an extra service. Surveys to your customers are sent in exact languages according to the previously made settings.
Ongoing help in understanding your data.
We do not limit our customers with access to Why Cancel's dashboard. By ordering any of our services you get access to a consultant that can help you understanding how to win back your customers easier and how to make your marketing smarter.
Survey invites and reminders by email are sent without your involvement.

E-mail invitations for answering few questions of the survey are sent to your customers automatically and you don't need to do this manually one by one. If the person doesn't answer in a certain period of time, the system will detect it and send a reminder, that as a rule brings good results in terms of improving the response rate.
Automation

Why Cancel works in fully automatic mode. It tracks all service cancellations and unsubscriptions, extracts contact information and schedules survey sending for finding out the reasons. The reсeived answers are then thoroughly analyzed and presented to you in the form of graphic, charts and easy to understand performance indicators.
Integration

You do not need to think about the technical implementation of integrating Why Cancel into your system. We have already developed integrations for many ecommerce and CRM systems. If there is no ready-made solution in the arsenal, our technicians will create the one for you and make it work in the shortest time.
Real-time data analysis and report generation.
After your customers have given their answers, the results are being instantly analyzed on our servers and displayed inside your system in real time. The received data can be filtered by participation date, customer group, language etc. You may exclude non-relevant answers from the overall statistics. The generated online reports can be exported into various file formats.
CSAT calculations

Why Cancel includes the calculation of CSAT (Customer Satisfaction Index) for the important areas of your company's work. It gives managers an opportunity in the blink of an eye to see what exactly is not going well and needs improvement. If you have any problems with interpreting the results, our consultants are always ready to help you get fewer cancellations.
Track customer losses and benefit from it.
If your website contains a subscription service, in terms of which the customers can register or close their accounts, then Why Cancel will unleash all its power in terms of tracking the ocurring cancellations and understanding the reasons of their existence. Every company has cancellations and it's a natural part of the working process, but the quantity and frequency of them is what makes the difference between special and ordinary ones. People stick to certain products or services for many years and tend to stop using others. Why is this happening in your case and how can you influence it? You will never know, if you do not ask.
Angry customers or the ones, who are confident in not returning are the most honest and open people. They have nothing to lose and will share important information with much higher probability. Would you refuse to listen, if someone could tell you how to make your company booming and successful? Moreover, there are always many chances of returning lost customers, when you wish to talk to them or offer them something extra, but who is worth contacting and what proposal would persuade them? Why Cancel will help you find out all the answers.


Why Cancel
500 EURO
First month included, after 100 USD / per month.
Automatic Survey Invites
Advanced Reporting
Free integration work
Fully featured, no upgrades!
Questionnaire Created by Examinare Team
Dedicated Support Contact
Start your Why Cancel Experience
You can now start your experience with Why Cancel directly online. After the first payment that includes setup and first month of usage the following will happen:

1. We contact you for the first meeting out of 2.
2. We create your questionnaire.
3. You approve the questionnaire or we make adjustments.
4. Setup
5. Startup meeting, your business is ready to go!