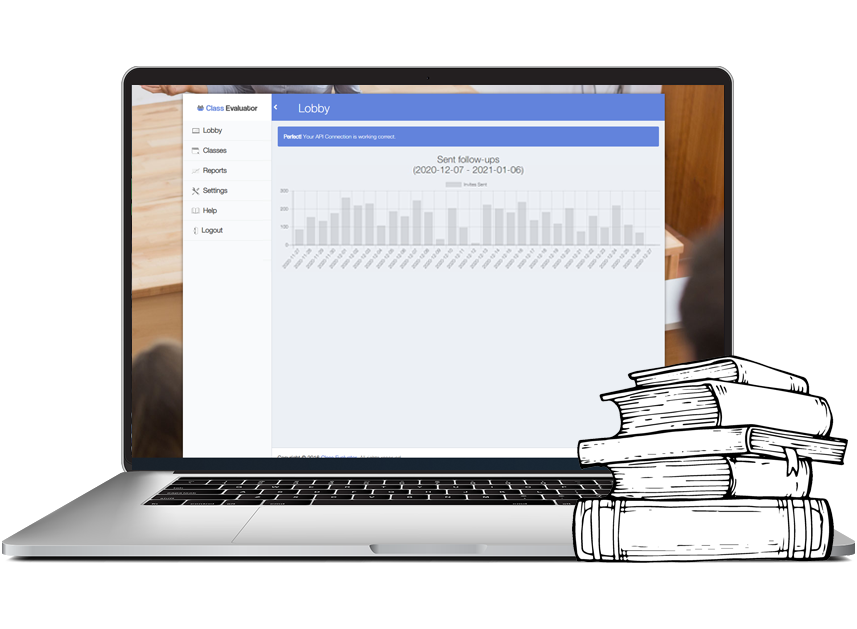 Automatic Training Course Evaluation made Easy and Powerful.
Evaluate your training course with easy-to-use automatic satisfaction surveys software. Class Evaluator comes packed with consulting services that will create templates for your school evaluations and create the automatic flow tailormade for your business.

We do all the setup and questions for you, if you need to make surveys in more than one school we will then setup the amount of schools and also make translations for you if you need in more than 1 language.
What about the features?
Import all participants and send out survey invites.
Your imports are done within seconds and the invitations are sent with or without a delay. You can import all participants and send out delay the survey follow-up to up to 14 days.
Remind automatically and get access to results in real-time.

Class Evaluator will remind the participants to answer your follow-up survey automatically. Participants that has answered will never get reminded to answer again.
Act on the business information and get help to make progress.

Class Evaluator's own business consultants will help you to make improvements according to your business goals. We also have add-on services as change consultancy and more business consultancy services, if you require help.
Setup a set of template settings (in any language you want to use).

Class Evaluator can be used in multiple languages and in whatever survey questions you want to use. After setup the import of participants are just seconds away.
Import with the help of copy and paste from the list you already have.

It does not matter if your lists are inside Excel, Google docs, Open Office or Libre office. All you need to do is to copy and paste in the email and then names (if you have the names) and Class Evaluator will render the lists for you. After it is rendered you can schedule the invites with 1 mouse-click.
Get your results in real-time easily.

Class Evaluator collects all the answers in real-time and you can see all the results in one screen, if you use multiple surveys then it will be available as an option inside the results view. We also calculates a CSAT (Customer Satisfaction Score) for your surveys automatically. This way you can easier tell your staff on what needs to be improved with a number instead of confusing percentage shares.
Class Evaluator
550 USD
First month included, after 250 USD / per month.
Automatic Survey Invites
Advanced Reporting
Fully featured, no upgrades!
Questionnaire Created by Examinare Team
Dedicated Support Contact
Start your Class Evaluator Experience
You can now start your experience with Class Evaluator directly online. After the first payment that includes setup and first month of usage the following will happen:

1. We contact you for the first meeting out of 2.
2. We create your questionnaire.
3. You approve the questionnaire or we make adjustments.
4. Setup
5. Startup meeting, your business is ready to go!