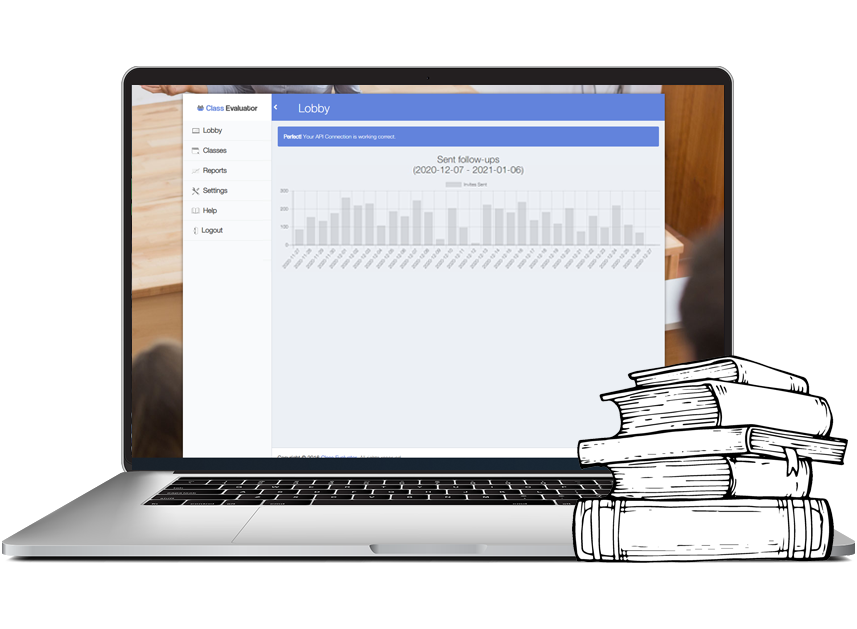 Automatic Training Course Evaluation made Easy and Powerful.
Automaattinen harjoituskurssiarviointi.
Arvioi harjoittelukurssisi helppokäyttöisellä automaattisella tyytyväisyyskyselyjen ohjelmistolla. Class Evaluator sisältää täydelliset konsultointipalvelut, joiden avulla luot kaavoja koulusi arvioinneille ja luot yrityksellesi räätälöidyn automaattisen virran.
Entä ominaisuudet?
Tuo kaikki osallistujat ja lähetä kyselykutsuja
Tuontisi tapahtuu muutamassa sekunnissa ja kutsut lähetetään heti tai tietyn ajan päästä. Voit tuoda kaikki osallistujat ja lähettää kyselyn seurannan jopa 14 päivän päähän.
Automaattiset muistutukset ja tulosten saaminen reaaliaikaisesti
Class Evaluator muistuttaa osallistujia automaattisestivastaamaan seurantakyselyysi. Jo vastanneita osallistujia ei koskaan muistuteta vastaamaan uudelleen.
Yritystietojen perusteella toimiminen ja avun saaminen edistyäkseen.
Class Evaluatorin omat yrityskonsultit auttavat sinua tekemään liiketoimintasi tavoitteiden mukaisia parannuksia. Meillä on myös lisäominaisuuksia muutosneuvotteluineen ja lisää yritysneuvontapalveluita, jos tarvitset apua.
Aseta joukko mallipohjia (millä tahansa kielellä, jota haluat käyttää)
Class Evaluatoria voidaan käyttää useilla kielillä ja millä tahansa kyselykysymyksillä, joita haluat käyttää. Asennuksen jälkeen osallistujien tuonti on vain muutaman sekunnin päässä.
Tuo kopioimalla ja liittämällä jo olemassa olevasta luettelostasi.
Ei ole väliä, ovatko listasi Excelin, Google DoCSATn, Open Officen tai Libre Officen sisällä. Sinun tarvitsee vain kopioida ja liittää sähköpostit ja nimet (mikäli sinulla on nimet) ja Class Evaluator luo listat puolestasi. Kun se on tehty, voit ajoittaa kutsut yhdellä hiiren klikkauksella.
Saa tuloksesi helposti reaaliajassa.
Class Evaluator kerää kaikki vastaukset reaaliajassa ja voit nähdä kaikki tulokset yhdellä näytöllä, jos käytät useita kyselyitä, se on saatavana lisävarusteena tulosnäkymässä. Laskemme myös kyselysi CSAT:n (Asiakastyytyväisyyspistemäärän) automaattisesti. Näin voit helpommin kertoa henkilöstölle siitä lukumäärän avulla, mitä on parannettava, sekoittamatta prosenttiosuuksia mukaan.
Class Evaluator
500 EURO
First month included, after 250 USD / per month.
Automatic Survey Invites
Advanced Reporting
Fully featured, no upgrades!
Questionnaire Created by Examinare Team
Dedicated Support Contact
Start your Class Evaluator Experience
You can now start your experience with Class Evaluator directly online. After the first payment that includes setup and first month of usage the following will happen:

1. We contact you for the first meeting out of 2.
2. We create your questionnaire.
3. You approve the questionnaire or we make adjustments.
4. Setup
5. Startup meeting, your business is ready to go!