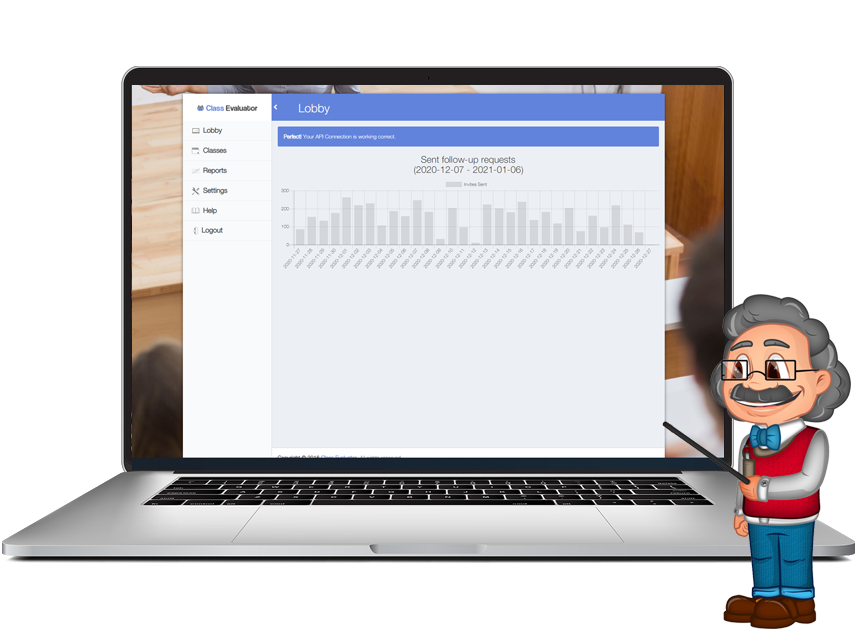 Examinare Class Evaluator
Automaatne Koolituste hindamine
Hinnake oma koolitusi automaatse kasutajasõbraliku rahulolu uuringute tarkvaraga. Class Evaluator tuleb koos nõustamise teenustega, mis loovad näidisvorme Teie kooli hindamiseks ja automaatset voolu isiklikult Teie äritegevusele.
Aga omadused?
Importige osalejad ja saatke välja uuringute kutsed
Importimine võtab aega vaid loetud sekundid ning kutseid on võimalik saata kuni 14 päevase viivitusega või ilma.
Automaatsed meeldetuletused ja reaalajas tulemused
Class Evaluator saadab osalejatele küsitluse kohta automaatseid meeldetuletusi. Osalejad, kes on küsitlusele juba vastanud, meeldetuletust ei saa.
Toetu otsuste tegemisel faktidele
Class Evaluator ärikonsultandid aitavad Teid ettevõtte eesmärkidest lähtuvalt edusamme teha. Lisaks sellele pakume veel mitmeid erinevaid küsitlus- ja ärikonsultatsioone.
Seadista soovitud keeles
Class Evaluator võimaldab kasutada sinu poolt valitud küsimusi ning toetab mitut keelt. Seadistamisele järgnevalt on osalejate importimine vaid sekundite kaugusel.
Lihtne importimine
Kopeeri oma nimekirjad otse programmist Excel, Google Docs, Open Office või Libre Office. Pärast nimekirjade importimist ja automaatset kohandamist on kutsete ajastamine vaid ühe kliki kaugusel.
Reaal-ajas tulemused
Vastuste kogumine toimub reaal ajas ning neid on võimalik kuvada ühel ekraanil. Mitme küsitluse kasutamisel saab vaadet vastavalt kohandada. Lisaks sellele arvutab Class Evaluator automaatselt välja kliendirahulolu indeksi (KRI).

Price Quotation
Find out how Examinare can help you! One of our Examinare experts will contact you shortly to discuss your needs and how you can benefit from Examinare Solutions.
Fill in the form and we will contact you shortly.