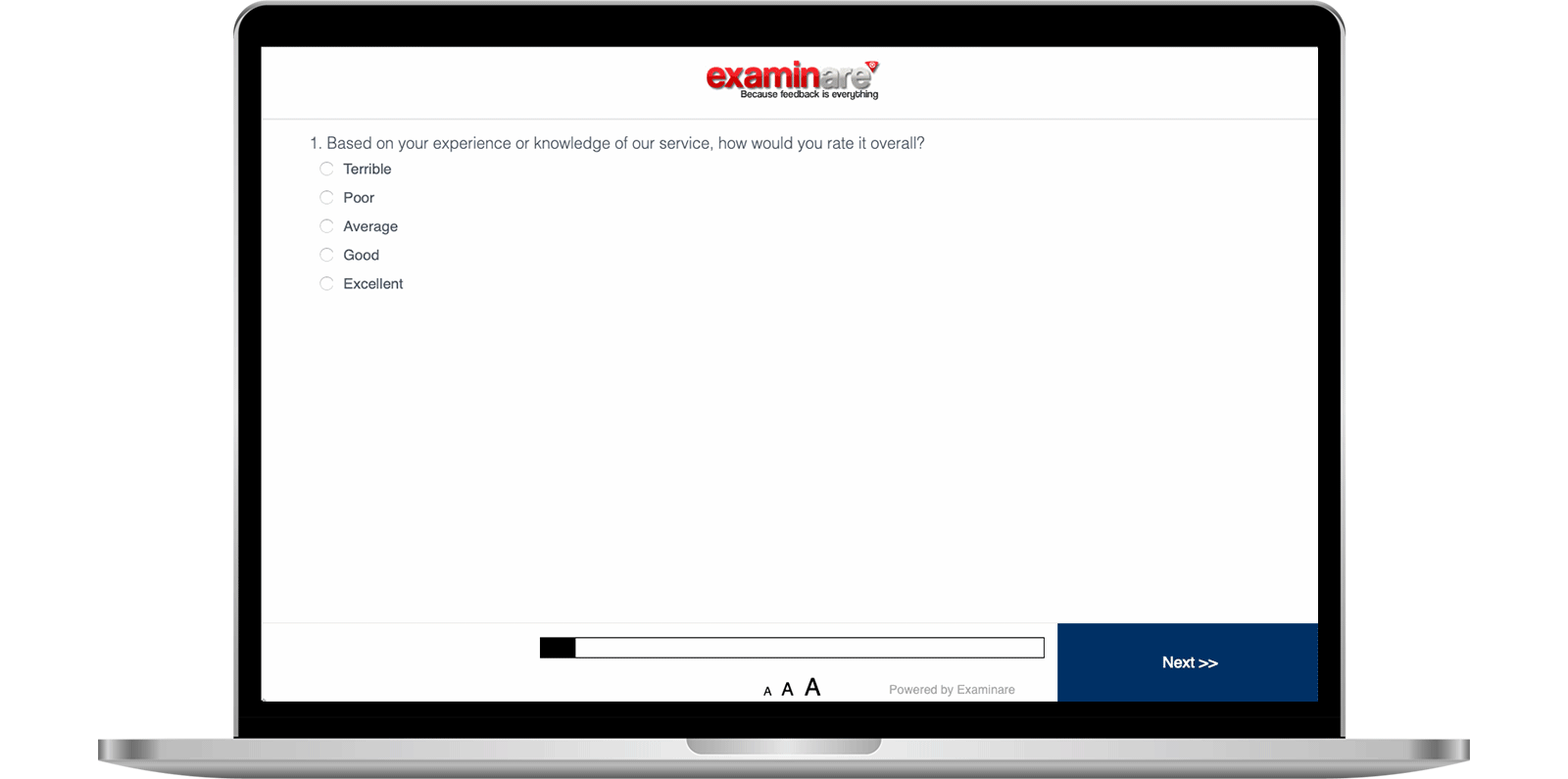 Create your questionnaires with Examinare's Questionnaire Software in a simple but powerful way.
You can find all the question types you need to make a perfect survey inside Examinare Questionnaire Software. We have taken all the technical complexity out of the questionnaire creation process, so that you can focus on the user experience. Simple, well designed questionnaires generate better response rates.
Example Survey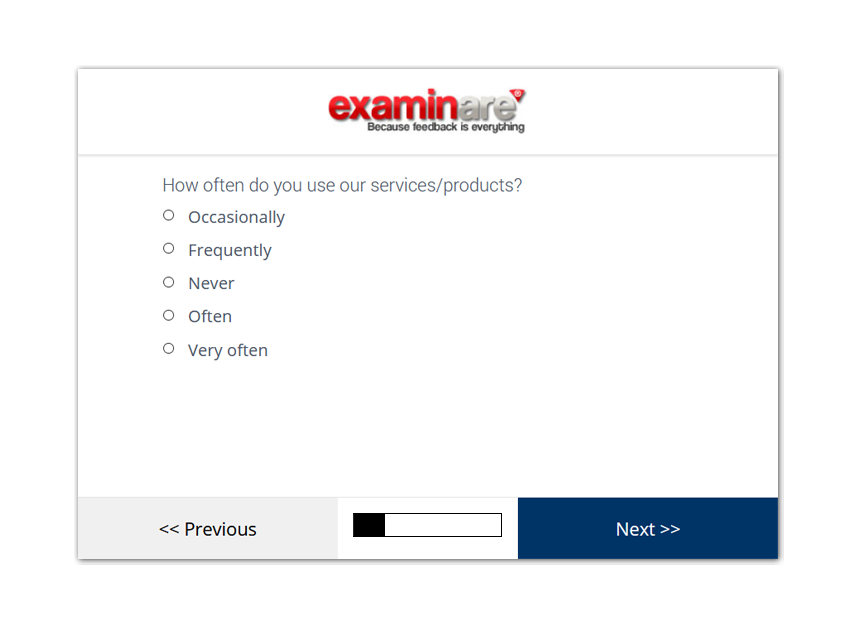 Questionnaire Contents
There is a lot of various question types available inside Examinare Survey Tool. You can choose between multiple choice questions, free text questions, various types of scales and much more.
Read more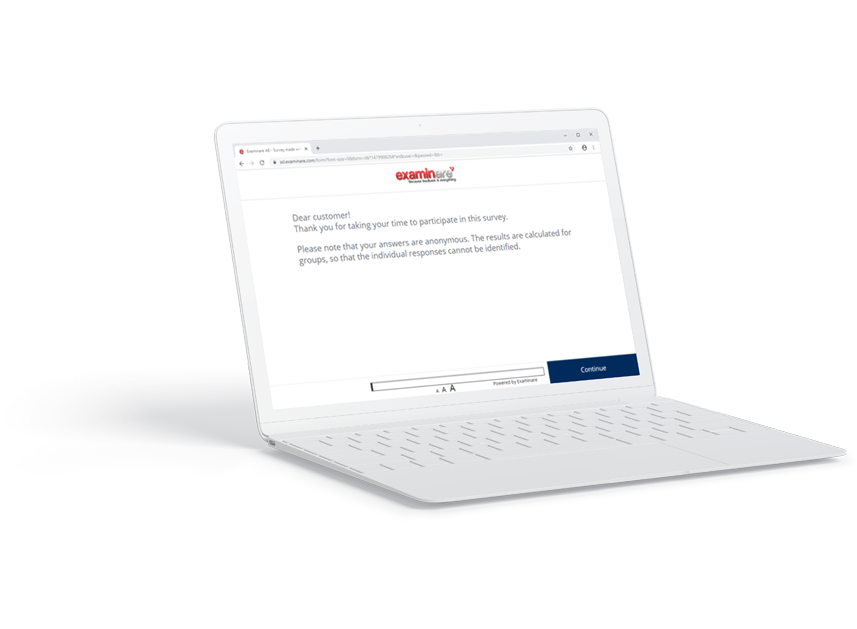 Recipients
Reach your target audience using multiple modes of communication, including mobile / tablet devices, websites or even standard phone lines. Depending on the requirements of the target audience and your business objectives, the questionnaires you send can be public or private.
Read more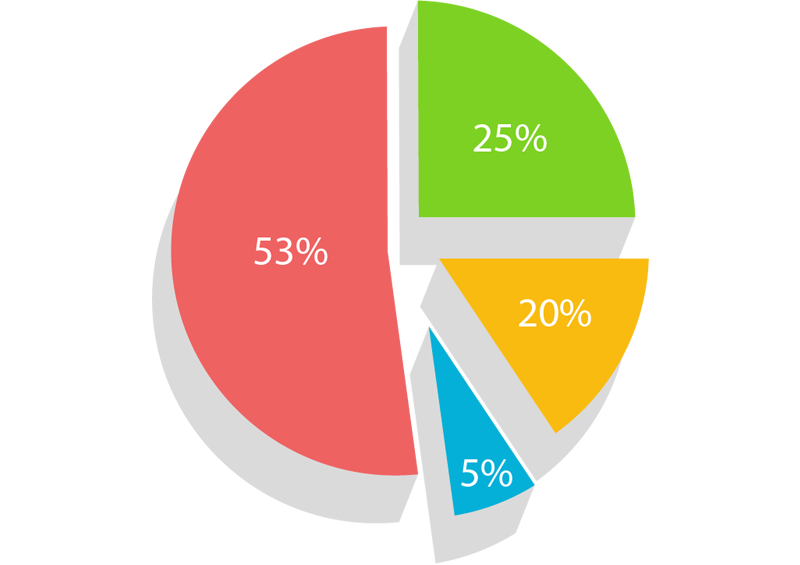 Reporting in Examinare Survey Tool
Regardless of the quantity of results in your online survey, the responses are analysed automatically in real time. The process of reports generation and representation is intuitive and easy. It is organized with different time-saving methods listed below.
Read more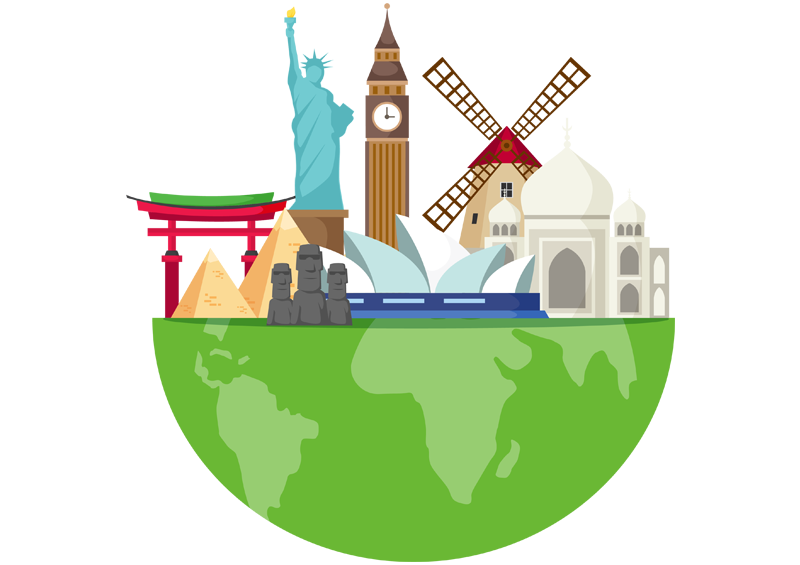 Fully Translated into your local language.
Examinare Survey Tool is translated into many languages and can be used with both left-to-right and right-to-left orientated writing styles. The following languages are today active in our tool and can be used in any Examinare account:
Read more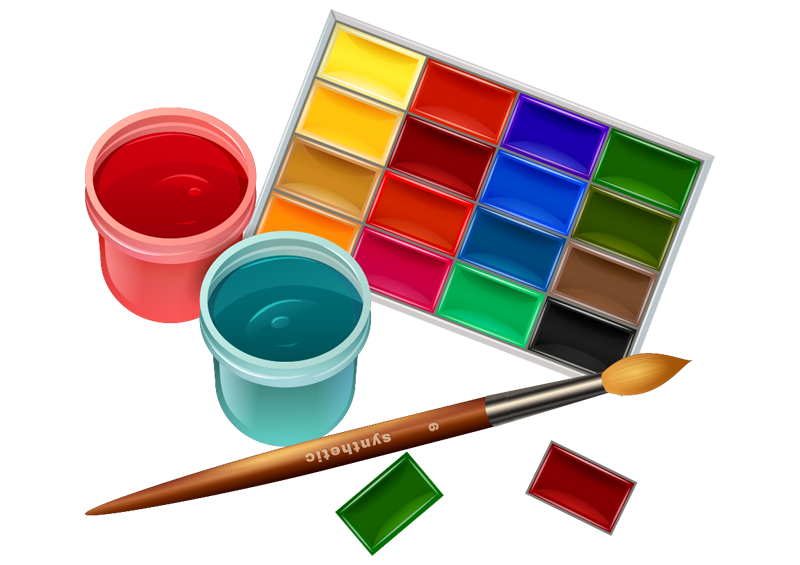 Layout in Examinare Survey Tool.
What makes your recipients willing to answer? Stylish design or functionality that everyone understands? With Examinare survey tool you do not have to choose! We have both. Logo, survey's colors and form, Start Page, Thank You Page, font size and many other layout features are customizable. You can let your imagination fly and make the survey look just the way you need without any limitations.
Read more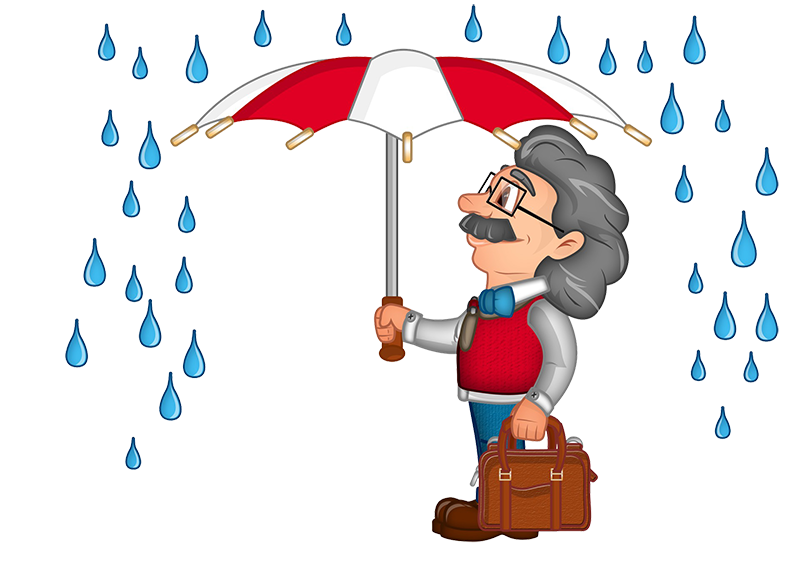 Enterprise Security
At Examinare we take great care with your security. We have cutting edge SSL encryption and hosting in secure data centres. However, we do not stop there, we also have the ability to add IP blocking to your account, if you want to restrict access to your admin login.
SSL encryption;
You can block certain IP addresses from logging into your account;
Our Secure Data centres have round the clock monitoring;
Backup every hour if you delete something by mistake.
Read more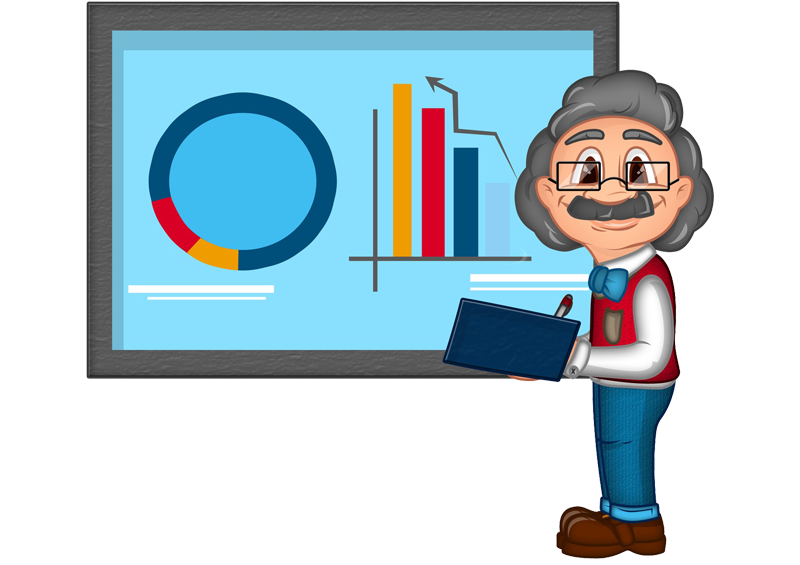 Magic Polls
Magic Polls™ is Examinare's functionality to simplify website voting, twitter voting and SMS voting. Magic Polls™ is a technology developed by Examinare, which lets you to create polls with help of voting via Internet or by a mobile text.
Read more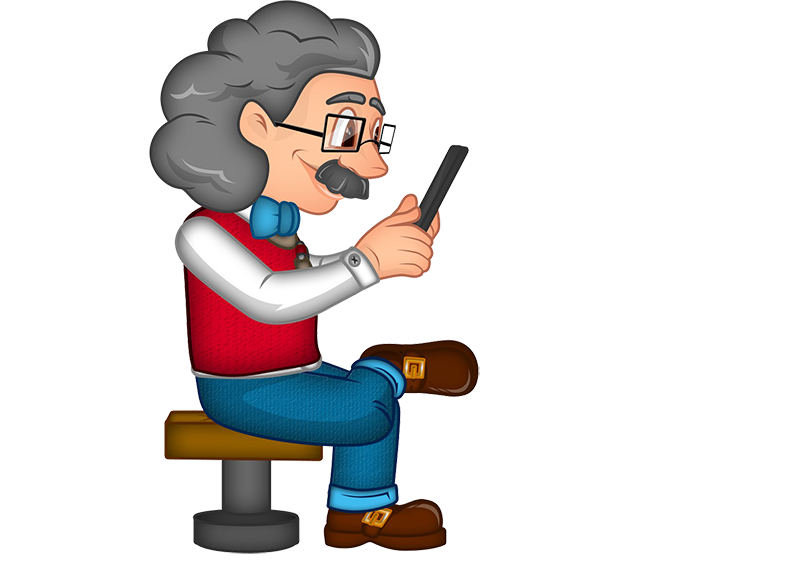 Create Surveys and share them on Facebook and Social Media.
Our Facebook plugin makes it simple and easy to send out your questionnaires and get them redistributed across the globe. Reach the audience of the biggest social network in the world. Get their opinions, likes and dislikes. Receive results in a flexible, convenient format and combine them with another communication channel.
Read more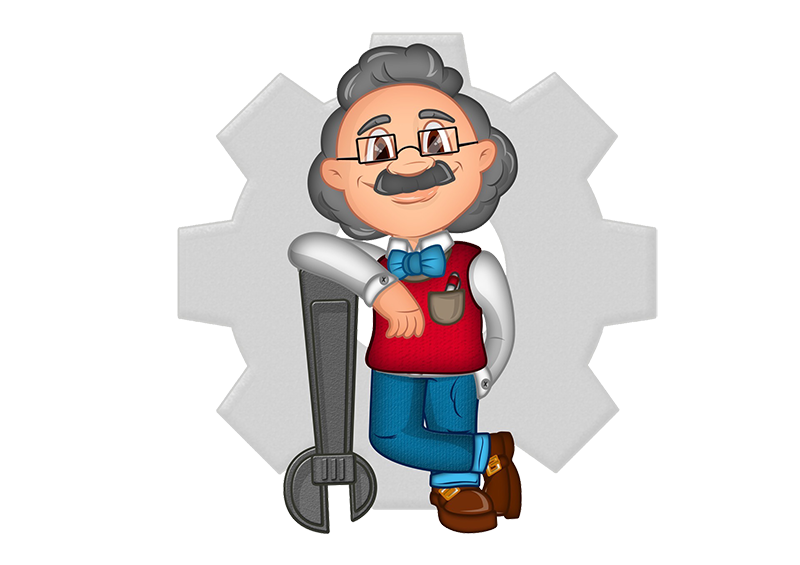 Integrations for Examinare Survey Tool
There are more than 20 integrations of Examinare Survey Tool into other services available. Survey system is also fully functional with our own API connection.
Read more
Help Pages
In our Help Center you can find all the needed information on how to create and conduct a successful survey. It also contains video tutorials, so that usage of the Survey System is not only described, but demonstrated also.
Read more