News
Meet Why Cancel, a solution that uncovers why customers unsubscribe from your services.
2017-05-11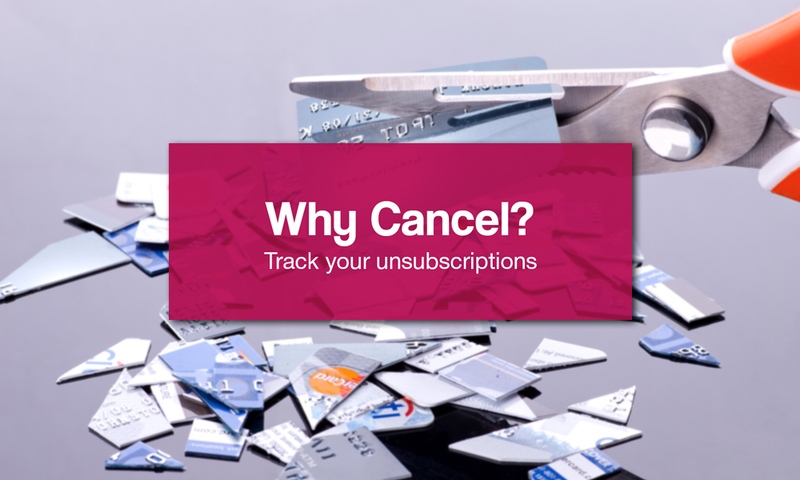 Nothing is more frustrating than losing a customer. You put time, effort, money into attracting people to your business, but they cancel the subscription or the service account in a short time. The first thought which you can get is that it's not enough money invested in marketing, advertising, affiliate programs and so on in your company. Maybe.

However, trying to invest more and more you can never know what exactly was the person looking for in your service. Maybe you gave the wrong expectations with the text on your website, or the service itself was not easy to use, or the competitor presented a cheaper price plan, or your newsletter was too bothersome. The reasons for losing the customers may be different and by directing your efforts to the right area you are able not only to save the financial investments but to also speed up the development of your business.

That is why we have developed Why Cancel, a solution for automatic tracking of service cancellations and unsubscriptions.
How does Why Cancel work?
1) When a customer cancels your service or opt-out from your newsletter, Why Cancel catches his name, email, and subscription ID.
2) After finishing the cancellation process, the customer is being put to the queue and will be sent an invitation to answer one or few small questions about his experience, what he liked, didn't like or hasn't found in your service. The invitation will be sent in a time period, which you specify in the settings as well as an automatic reminder in case the customer ignores or misses the first invitation.
3) Why Cancel calculates received answers and shows the results in real time. Now you can process them and on received base start acting to get less and less customers to unsubscribe. In case you're stuck, our consultants are always ready to help you find a way to achieve the desired results.
What are the advantages of using Why Cancel?
- the service is automatic.
"Set-and-forget" functionality is a distinctive feature of all Examinare services. Once you have set up the whole system, all the tracking, email invitations and email reminders will be done and sent automatically by it.
- the service is fully adjustable.
You determine how many and what questions you want to ask your customer, how will the survey window look like (add your company colors and logo) and what message will the customer receive.
- the service connects to your workflow easily.
There is no need to write complicated functions to bind your canceling flow and Why Cancel. Our API is already prepared and you just need to insert two blocks of code into your website in order to start tracking the unsubscriptions.
- your data is protected and safe.
We, at Examinare, treat data-storage very seriously. Why Cancel uses Examinare API and all the information about your customers together with survey results is saved inside your Examinare account on the military-standard cloud servers in EU, mainly in Sweden. You can be sure that your data is in absolute safety and no one can ever access it except you.

Why Cancel is already available, so don't waste any minute more, register an account, start tracking customer cancellations, analyze your weaknesses and grow your business.
This article is about Why Cancel.
Our service for Anti-churn with real customer questionnaires that convert.
Read More
Contact Examinare
+46855926800

Price Quotation
Find out how Examinare can help you! One of our Examinare experts will contact you shortly to discuss your needs and how you can benefit from Examinare Solutions.
Fill in the form and we will contact you shortly.