News
Say hello to Leveranskontroll: Simplified Delivery Control for E-commerce with built-in CSAT (Customer Satisfaction Score)
2016-07-08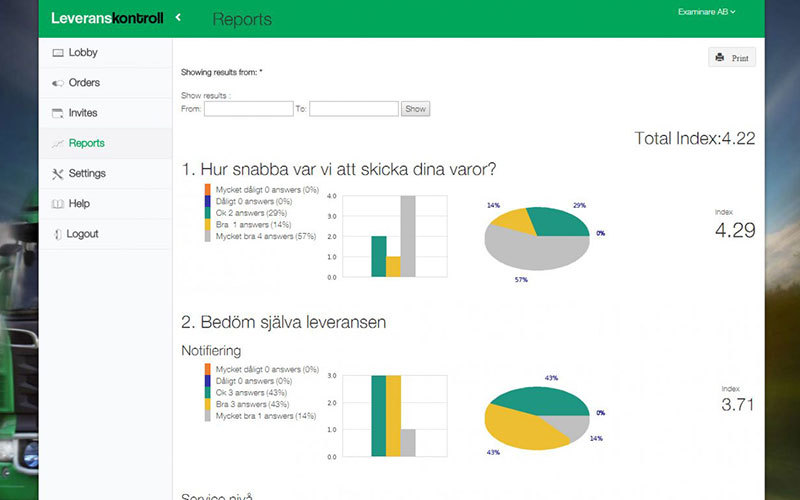 Say hello to Leveranskontroll: Simplified Delivery Control for E-commerce with built-in CSAT (Customer Satisfaction Score).
We here at Examinare have had a fantastic spring 2016. Not only have we updated our survey tool with a fantastic new design, but we have also updated our cloud to a new level delivering better loading times across the world. Now comes the next hit!
Introducing the delivery control (leveranskontroll.com), the ultimate delivery feedback platform for e-commerce. Leveranskontroll can be used with all known e-commerce systems and CMS tools without APIs.
This is how Leveranskontroll.com works.

Step 1.
Your customer puts in her/his order and arrives at your thank you page. There, our system registers the order information and customer information automatically to enable email invitations of the CSAT questionnaire.
Step 2.
You ship the product or service and at the same time, our system automatically gets an indication that you have shipped the order.
Step 3.
Our system sends out the questionnaire according to your settings. If a reminder is set and a questionnaire is unanswered after a set period, then the system will send out a reminder to your customer. After receiving feedback, you can follow the results in real-time.
Leveranskontroll works seamlessly with your Examinare Survey Account.
As you know, we at Examinare are committed to providing you with safe data-storage and Leveranskontroll is no exception. Since Leveranskontroll uses the Examinare API, all information is saved inside your Examinare account and all data storage of your recipients and survey results are saved in Examinare. In Leveranskonroll only anonymous data that can not be connected to any personal information is stored.
Do you want full delivery control?
This article is about our Business Services.
Read more on how we can help you.
Read More
Contact Examinare
+46855926800

Price Quotation
Find out how Examinare can help you! One of our Examinare experts will contact you shortly to discuss your needs and how you can benefit from Examinare Solutions.
Fill in the form and we will contact you shortly.