News
How to create a really good SMS-survey!
2014-05-14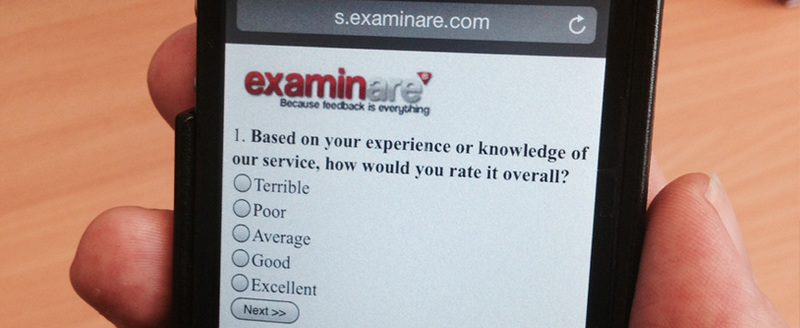 More and more people own cell phones with every passing day and many of them take care of their phones more than their email. Thus, since 2009 we at Examinare have been delivering thousands of SMS-surveys for both Swedish and international respondents. There is a lot you can do with SMS-survey technology and there are opportunities to set it up to automatically send out questionnaires via e-mail. The possibilities are endless with SMS-survey and we at Examinare have gathered in one place many applications in which our services are applied.
Customer surveys in the form of SMS-survey.
Text on the phone usually gets everyone's attention. Following a link to your survey via SMS is harmless and not nearly as time-wasting as you may believe. Most people respond to SMS-surveys when they travel home, in the bus, subway or in the passenger seat on the way to the party. If you combine your SMS-survey with a reward such as one-month Service Premium or similar, you'll significantly increase your response rate.
How to send an SMS-survey when you don't have the phone numbers?
When you want to send out an SMS-survey, you do not always have all the desired numbers to send out to. It can be in a follow-up survey in a classroom or after a social gathering since it is as easy for Examinare to receive SMS as it is to send them. Examinare Survey Tool can automatically send the link to the recipients as an SMS answer. This way the respondents can easily answer directly on their cellphones.
Do SMS-surveys work on new phone models?
Our technique works on even old mobiles that are manufactured after 2001 and up until now. Today you may experience not so many phones in your life, but there do exist many other phones where other operators' SMS-surveys do not work. We have ensured that all the technology works so you don't have to think about it, SMS surveys are set up for the future models and compatible with older mobiles.
Automatic SMS-survey on delivery of the goods.
Sending many supplies demands knowing how the end-users perceive the delivery. In this case, you should definitely send out the SMS-survey to all of the customers when they have received anything. If they are pissed over their delivery, you will definitely hear from them, but if your delivery times have been extended or other complications have occurred then the chances that your company can talk to the customer about it are quite low.
Polls via SMS.
Mobile polls are not an SMS Survey but many organizations chose to use them. Examinare has a technology called Magic Polls™, which is the next generation of polls, where respondents can easily submit their votes via text message and the results are displayed in real-time. Magic Polls™ can be combined with Twitter and Website Polls.
Briefly on how to get started with SMS-survey.
To get started with SMS-survey in your company you can order an account directly on the internet (via Prices page) or contact us for guidance to the best solution for your specific project. You can get a quotation directly by visiting this link. Fill out the form very carefully so that we can give you a quote that reflects your expectations. We look forward to helping your company with better feedback using SMS-survey.
This article is about our Business Services.
Read more on how we can help you.
Read More
Contact Examinare
+46855926800

Price Quotation
Find out how Examinare can help you! One of our Examinare experts will contact you shortly to discuss your needs and how you can benefit from Examinare Solutions.
Fill in the form and we will contact you shortly.