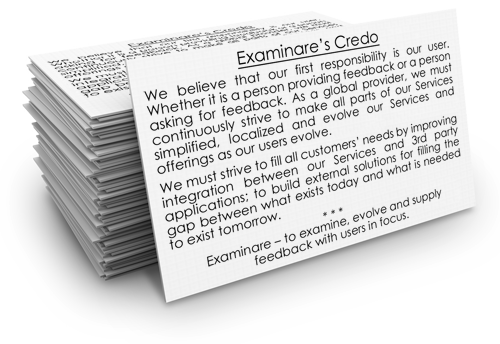 Examinare
Examinare Credo
We believe our first responsibility is to our entire user base, which includes both the people actually answering questionnaires to provide feedback and the the organisations who are requesting feedback. As a global provider, we always strive to make all aspects of our products and services simple to use, localised and continuously improve our services to satisfy the changing needs of our users.
Our objective is to satisfy all our customers' requirements by improving the integration between our platforms and third party applications, and also to create new solutions to bridge the gap between what exists today and what needs to exist tomorrow. We want to guide you to achieve your goals by collecting quality feedback globally.
Examinare – we examine, evolve and supply feedback while keeping all our users in focus.
Examinare
November 2005
It all began when one of our main clients needed to create a questionnaire that could be conducted both on the web and also on the street. We created a data mining system for this project.
The name of the project was Examinare.
June 2006
Launch of Examinare's web services.
After "Project Examinare" had been finished, we won more business with customers who wanted similar services. TV4 (Sweden) and Bang & Olufsen (Denmark) were amongst our first customers.
January 2008
Mobile Questionnaire Platforms..
Examinare was one of the first companies to develop a special questionnaire platform that could be used on any mobile device, not just smartphones or tablets. Although the technology is more sophisticated today, the same philosophy applies today.
March 2008
Translation into all Scandinavian Languages
Examinare was translated into Danish, Finnish and Norwegian from its original versions in English and Swedish.
June 2008
Introduction of the Examinare API (Application Programme Interface)
We knew from the very beginning that APIs represent an excellent method of extending Examinare's questionnaire platform to cater for future requirements. We developed a robust API in 2008 that is constantly being improved with richer functionality
2009
The Examinare AB company structure was created, and the first system integration development work was performed.
The Examinare AB company commenced and became the new owner of Examinare Questionnaire Platform, transferring the ownership from the Swedish web agency IT Kroonan. The new company performed the first three system integrations for the Examinare Questionnaire Platform. These integrations (now called extensions) were performed for Fortnox, MailChimp and Dropbox.
2010 - 2011
Extended API (Application Programme Interface) & System Integration
During 2010 and 2011 the Questionnaire Platform and the Examinare API were extended. The platform and websites were translated into a total of 14 languages.
2013
Integration project in Australia.
Examinare was handpicked from a wide number of competitors by a large HR company in Australia to provide them with a new enterprise questionnaire platform for one of their validated psychometric tests. The project was delivered and is now used as a cost-effective way for conducting online psychometric testing.
2014 - 2016
Wide range of new services.
The Examinare enterprise platform was extended with 14 new modules including Mystery Shopping, Clinic Evaluation, and Dashboards. There are more than 28 supported languages, including Arabic and Icelandic. We also introduced our popular extension to the Zendesk platform, which provides the capability to perform service follow-up communication.
Today
We are happy to give you a quote.
We would love to provide you with a proposal to give you the best solution at a competitive price, and also kick off a collaborative business relationship for the future.

Price Quotation
Find out how Examinare can help you! One of our Examinare experts will contact you shortly to discuss your needs and how you can benefit from Examinare Solutions.
Fill in the form and we will contact you shortly.